OWNER - BARRY NELSON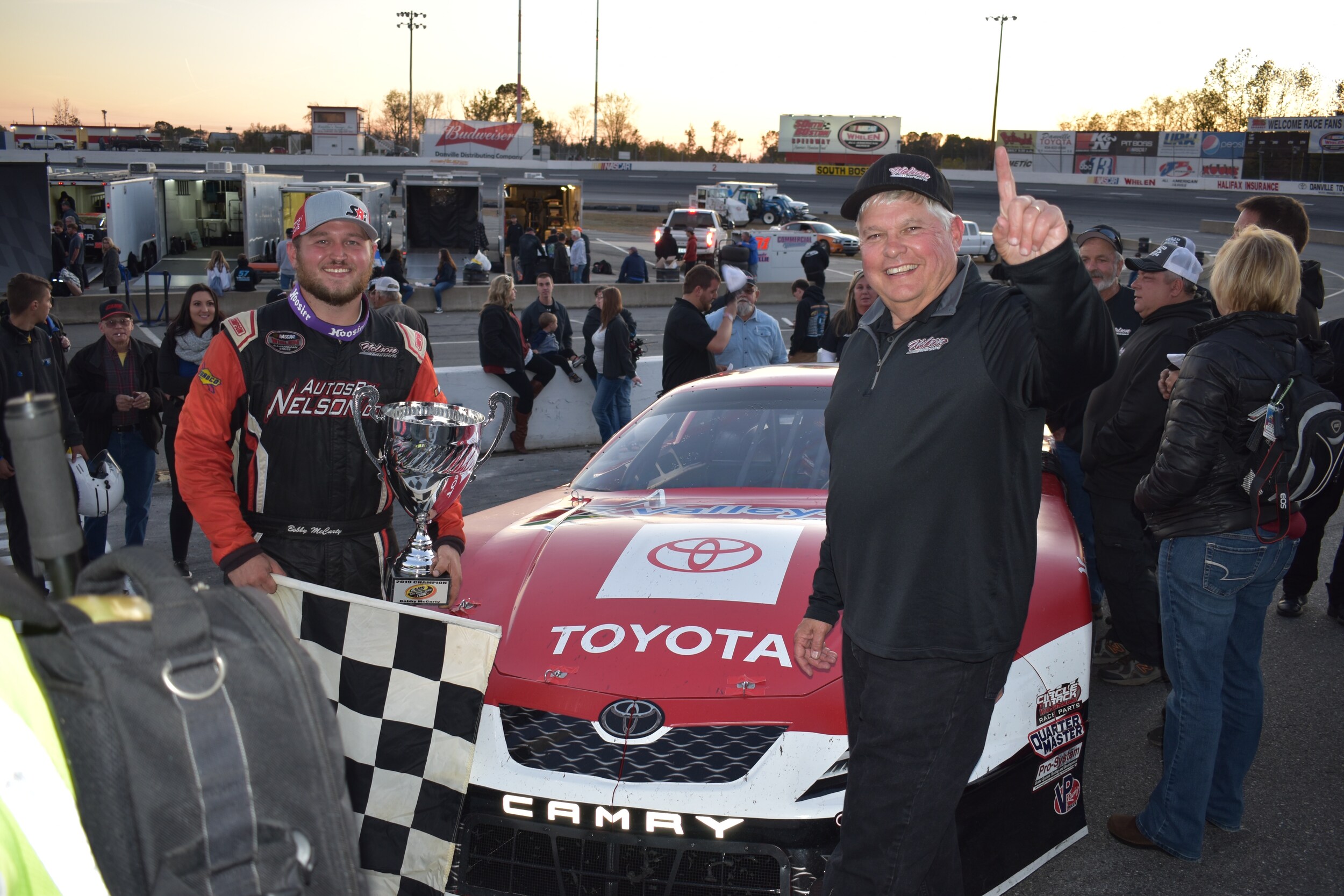 Barry Nelson is a perfect example of the age old statement: "if you're going to do something, do it right."
Case in point: Barry helped revitalize a local baseball program at Patrick Henry Community College a decade or so ago. By doing so, he didn't just hand the school a check. He dove in head first, becoming the team's coach, a post he held for several years as the program grew. Today the Patriots boast one of the top junior college baseball programs in the country.
It was not a surprise when a chance meeting with NASCAR Camping World Truck Series driver Timothy Peters turned into a desire to field a Late Model Stock Car Race Team, Nelson was all in.
Four years later Nelson Motorsports' three-car Late Model team is one of the most successful and respected in the region.
But none of that should come as a surprise. Nelson is no stranger to success. He has built a small family car dealership into "AutosByNelson," a group of seven auto dealerships representing 13 manufacturers in Southern Virginia and North Carolina.
Nelson's secret to success is no secret: hard work, good people, honesty, & fairness.
Nelson has been around racing most of his life. As a teenager he helped some with Perk Brown and the famous No. 45 modified coupe at local tracks, but as an adult, he was so wrapped up in his work and his community endeavors to really get involved in racing. Until meeting Peters at Nelson Toyota, starting a race team hadn't crossed his mind. But his wheels immediately began turning, and the result is the "Hometown Team Nelson Motorsports," which produced some of the biggest Late Model wins in the nation in 2017, including Peters' victory in the ValleyStar Credit Union 300 at Martinsville Speedway.
"Racing is all about people and I've got the best people," the 61-year-old Nelson said.
 "It's just like athletics. Good people and hard work. After 16 years of coaching baseball, it's almost the same thing."
Nelson is also a big believer in giving back to his community. In 2013, he was awarded Henry County's highest honor, the Jack Dalton Community Service Award, given annually to the Henry County resident who best demonstrates the exemplary community service that marked Dalton's years of public service.
Nelson's list of community service is almost endless, from years of coaching youth sports teams, to sponsoring the Teacher of the Year Award in Henry County and supporting other school districts, to multiple gifts to Patrick Henry Community College amounting to more than $100,000 to sponsoring many charities through his dealerships to founding a chapter of Fellowship of Christian Athletes at PHCC.
Nelson and his wife Patti have been married for 40 years and have two grown children, Lee and Christina, along with four grandchildren.
TIMOTHY PETERS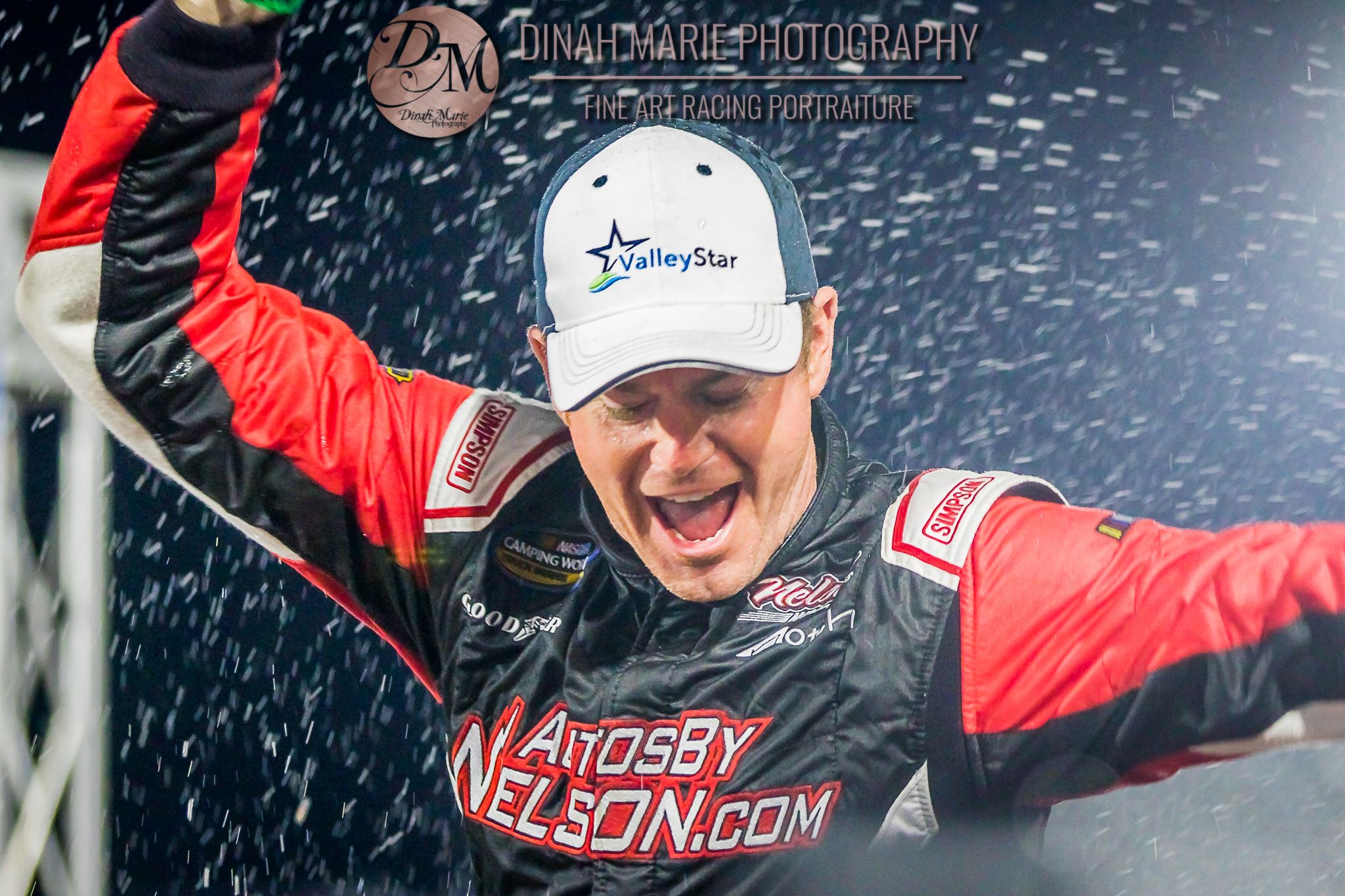 Timothy Peters has been the anchor driver for Nelson Motorsports since the beginning, bringing experience, leadership and a winning mindset to the team.
He brought Nelson Motorsports its biggest win ever this fall when he captured the country's richest, most prestigious NASCAR Late Model Stock race in the country - the ValleyStar Credit Union 300 at Martinsville Speedway.
In addition to running selected high-profile races, the 37-year-old Peters also serves as general manager of Nelson Motorsports, overseeing day-to-day operations. He doesn't mind getting his hands dirty either as evidenced on race days when he can be found under and around either of the Nelson Motorsports entries turning wrenches.
For a dozen years, Peters has been one of the most competitive drivers on the NASCAR Camping World Truck Series, picking up 10 victories while driving for Red Horse Racing.
He made the NCWTS inaugural Chase for the Championship in 2016 and was one of the final four drivers racing for the title in the season finale at Homestead-Miami Speedway..
Peters has finished in the top 10 in over half of his 233 truck-series starts.
When Red Horse ceased operations in the middle of the 2017 season, Peters increased his involvement with Nelson Motorsports while running a part-time NCWTS schedule for Young Motorsports.
Peters gave Nelson Motorsports it's first high-profile victory in 2015 when he captured the Denny Hamlin Short Track Showdown. In his first CARS Tour start a year later, he won a 150-lap, $10,000 to win race at Orange County Speedway.
Peters and his wife Sara live near Danville, Virginia with their two young children.